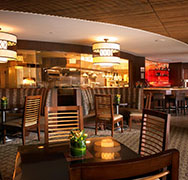 Pūlehu, an Italian Grill
Enjoy rustic Italian cuisine with a modern flair at this award-winning restaurant that focuses on sustainability and supporting local farmers. Favorites are cooked over an open flame and pizzas are made in the stone oven. Pūlehu also offers an Italian-inspired wine list and cocktails to complement the menu selections.
Reservations accepted.
(Available at The Westin Kā'anapali Ocean Resort Villas)
Cuisine: Italian / Atmosphere: Upscale / $$-$$$
Price Key | $ = $0 – $49, $$ = $50 – $99, $$$ = $100 – $199, $$$$ = $200+

For more information, or to make an activity reservation, please call your Personal Concierge at .

Private lessons and charters available for water activities. Private tours available for land tours. VIP seating available for entertainment. All resort activities are subject to change.