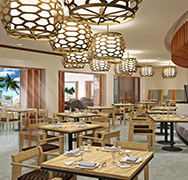 Mauka Makai
Discover island dining that celebrates the farming and fishing cultures of ancient Hawai'i. Inspired by ancient Hawaiians, who drew their physical and spiritual sustenance from the land and sea around them, Mauka Makai offers an authentic culinary experience with an array of seafood complemented by staples such as taro, sweet potato, and breadfruit. This sets the stage for Mauka Makai — toward the mountain, toward the ocean.
Reservations accepted.
(Available at The Westin Nanea Ocean Villas)
Cuisine: Pacific Rim / Atmosphere: Upscale / $$
Price Key | $ = $0 – $49, $$ = $50 – $99, $$$ = $100 – $199, $$$$ = $200+

For more information, or to make an activity reservation, please call your Personal Concierge at .

Private lessons and charters available for water activities. Private tours available for land tours. VIP seating available for entertainment. All resort activities are subject to change.